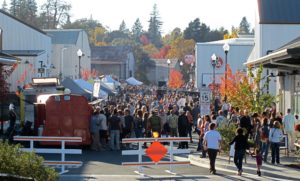 Sitting here on our old rickety lazy boy with fresh blisters on my hand, I feel compelled to appreciate, and share the adventure I had with hubbub tonight:
So I'm at one of my daughter's friend's birthday parties on the other side of town when my alarm goes off to get my ass down to the Barlow…
So I pack up the bass drum in the baby cart, hook it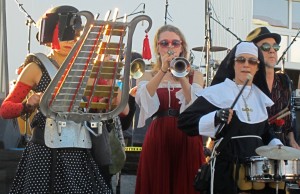 up to my bike and hit the road.. .
I'm having flashes of E.T. as I'm sprinting though town on my bicycle weaving in and out of traffic trying to make it on time with my precious cargo. Just as I'm making some good time the buggy capsizes and the bass drum goes rolling out in the street. (Thank got it wasn't the baby!) With spectators pointing and cringing, I put myself back together and start pedalling at full speed.  Finally, I pull in to the meeting spot and lock up the bike only to find out I have no drum sticks or harness left in the cart??. (you know that crappy dream when you show up to school without pants!)
So I grab a bungee cord and my baby carrier to rig something up quickly. I can hear Moliendo playing in the short distance and think, "Great! I'll just jump right in. No one will even notice that I'm late."
I look up only to see our sousaphone fading away into a massive deep sea of humans….
At last, I reunite with my mothership, helping to bring smiles to the people…….
Wow, what a nite!
. . . Sent from outer space!