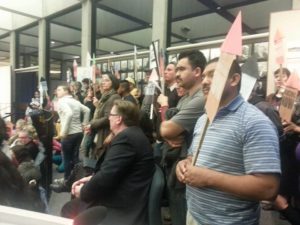 On Wednesday July 29th, at 5:30pm, tenants, workers and allies from across all Sonoma County will unite to let public officials know that tenant protections like rent stabilization and just cause eviction policies must be a top priority.
Santa Rosa and Sonoma County are fast becoming a playground for the rich. Working people and immigrants are being pushed to the fringes of the County or even to bordering counties, commuting to work everyday to serve the wealthy. The racial and class implications of this are monumental, as working people are stuck (1% vacancy rate), while being squeezed (30% rent increases in 3 years).
Join the Hubbbub club in standing up for tenant rights!
Roseland Plaza
, 665 Sebastopol Rd , Santa Rosa