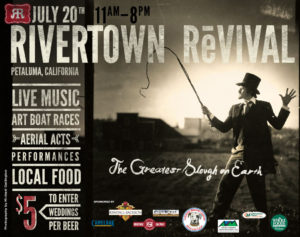 Rivertown Revival is Coming this Saturday, July 20th, 11am to 8pm at the Petaluma River Heritage Center.  $5.00 admission
It's a Carnival at the Barn, so dress up in your "Barnival Best" and giddyup in your getup to see the art boat races!
Enjoy local foods, local performers, and local beer. Witness aerial acts of daring do over the salty slough.
Enjoy live music all day across three stages: The Hubbub Club, (who we all know cannot be confined to a stage) and 24 more bands!!!
For another five bucks, you can buy a beer, OR! a local maritime official will perform your very own wedding ceremony. (Note that our $5 weddings are BYOP, as in bring your own partner.)
more info: http://rivertownrevival.com/ and
https://www.facebook.com/rivertownrevival?fref=ts
Petaluma River Heritage Center
, Copeland and D Streets , Petaluma