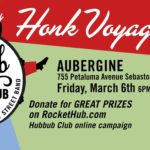 Help send the Hubbub Club to HONK! Come to our all ages show at 755 After Dark (formerly "Aubergine") in Sebastopol on Friday, March 6th, 6pm to midnight.  We have a great lineup including five other local bands who are donating their performance for our cause:
Sean & Karen, Mississippi Moon, The Easy Leaves Duo, Corner Store Kids, and Dixie Giants
Tickets for the show can be purchased at our Online RocketHub Fundraiser.  See you there!
Aubergine's "755 After Dark"
, 755 Petaluma Avenue , Sebastopol