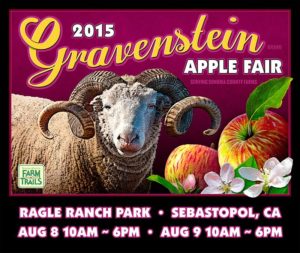 On Sunday, August 10th, at 5:30pm, the Hubbub Club will march through the Gravenstein Apple Fair under the shade of majestic oaks in Ragle Ranch Park in Sebastopol Now in its 42nd year, the fair continues the tradition of celebrating and exhibiting Sonoma County's treasured Gravenstein apple, combined with fantastic live music on two stages, great food, cooking demonstrations from local chefs, arts and crafts booths, a petting zoo, pony rides and so much more.
Visitors experience the feeling of an old time country get-together.  They can throw darts at apples, ride in a wagon pulled by plow horses, shop the local artisan booths for handmade jewelry, clothing, pottery and gourmet goodies. There are fun activities, like the Hay Maze for the kids, kid focused performances, beekeeper displays, and a fine selection of local wine and craft ciders and beers for the adults.
For more information, visit the event website here.
Ragle Ranch Park
, 500 Ragle Road , Sebastopol